Prime Minister Imran Khan believes Pakistan and Malaysia are facing similar situations right now, in terms of debt and corruption.
The heads of the Pakistani and Malaysian government discussed during Prime Minister Khan's visit to the country common issues such as foreign direct investment, privatisation, tourism and food.
During a press briefing in Putrajaya, Malaysia Wednesday morning, Malaysian Prime Minister Mahathir Mohamad also said that he had been invited to visit Pakistan on March 23, 2019 as chief guest at the country's Pakistan Day celebrations.
He said Malaysia is keen to make Pakistan a dialogue partner in ASEAN groups. He said the two heads of state also discussed mutual defence cooperation during their meetings.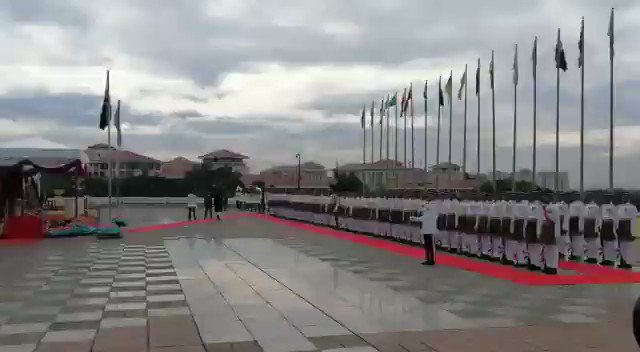 Prime Minister Imran Khan and Malaysian Prime Minister Dr Mahathir Mohamad inspecting the Guard of Honour at an official welcoming ceremony at Perdana Putra, Putrajaya. #PMIKinMalaysia
382 people are talking about this
Twitter Ads info and privacy
PM Khan said one of the main reasons for him wanting to come to Malaysia was out of admiration for PM Mahathir. You are a statesman who transformed his country and we have followed your country's progress since when you came into office, he said.
Related: PM Imran Khan leaves for Malaysia
"We want to learn from your experience, how you transformed your economy and developed it," he said, adding that the two countries' governments are in similar situations.
PM Mahathir served as Malaysia's premier from 1981 to 2003 and recently came into power once again, beating PM Najib Razak who is being investigated for massive corruption during his tenure.
"We both attained the people's mandate on an anti-corruption platform," said PM Khan, adding that they are also both facing similar situations in terms of unprecedented debt. "We have a lot to share."
We wanted to talk about dealing with the crisis and how to come out of it, he said, adding that he is pleased with the discourse so far.
Related: PM Imran Khan's trip bears fruit: Pakistan, UAE to enter economic partnership
PM Khan also said that one of the major issues he wanted to discuss with the Malaysian premier was tourism, or more importantly, how to tap into tourism potential. Malaysia has developed tourism resorts and we want them in Pakistan too, since we have the tourism spots but no resorts, he explained.
He ended his speech by saying he hoped to further these contacts and strengthen the relationship between the countries and looked forward to PM Mahathir gracing the Pakistan Day celebrations on March 23.
Pakistan and Malaysia also signed an agreement to partially abolish visas for travel between the two countries. In a statement, the Malaysian foreign ministry said the two prime ministers witnessed the signing ceremony after talks in Kuala Lumpur.